A Letter from our Vice President and Doctor of Physical Therapy, Jason Horras
"WOW have things changed in only a few weeks for everyone in the US and around the world! At 21st Century Rehab, we want to first make sure that you and your family are safe during these unprecedented times.
As PT's and OT's, we have dedicated our lives to helping people improve their function and generally make the lives of our patients and communities better. With the COVID-19 pandemic, our focus continues to be on the same thing; Helping those who need our help!

PT's and OT's are defined as essential health care workers by the Department of Homeland Services, meaning it is part of our job to be there for you, our patients. We know there are unique challenges with this to make sure that we protect our employees and the patients we serve. We do continue to see patients in person for those who feel comfortable leaving their home for therapy. Extensive measures are taken to promote proper disinfecting, distancing, and protection of in-person patients per exhaustive CDC guidelines

Clearly not all patients can be seen in person for many reasons. This has led to the rise of telehealth services for many of our patients. Most insurance companies have allowed and actually encouraged telehealth for therapy patients. Our therapists can evaluate and treat patients over the computer, phone, and other means of audio and/or visual communication. We have seen dozens of patients via telehealth in the past week and this method of evaluation and treatment will only continue to grow over the coming weeks.

Wellmark, which is one of the largest commercial insurers in Iowa, has waived all costs to the patient via telehealth from March 16 until June 16, 2020. This means that we can evaluate and have ongoing treatment for Wellmark patients and they have no co-pay, deductible or co-insurance. We applaud Wellmark for their incredible response for the health and welfare of their insured customers! If you have Wellmark, we encourage you contact your local clinic for a telehealth visit for any musculoskeletal problem you may be experiencing including pain, weakness, balance, or daily life factor.

Over the next weeks and months, we want to be a resource for our patients. If you would like to be seen through telehealth for a past or current therapy problem, or just have a few quick questions, don't hesitate to contact your local clinic. We would love to hear from you about ways to exercise appropriately at home, work at home more comfortably, or relieve the ache in your back from all the extra cleaning and house chores. We want everyone to continue to Work Well. Play Well. Live Well during these extraordinary times."
We've Got Videos!
In lieu of our workshops that have been postponed for the time being, our staff has been hard at work creating helpful videos that have been posted to our Facebook page. We understand that, at this time, many of you are limited and unable to come see us. We do encourage you to contact our offices directly to see what options there are for you to be seen at this time. In the meantime, we still wanted to serve our communities by providing helpful, informational videos that we hope you'll enjoy! These videos cover a variety of topics from body part specific exercises meant to strengthen or help with pain to some home exercise routines to help you stay active during this time. Check them out by clicking below!
Tips for Working at Home
Simple Tips to Make Seated Workers Feel Better and More Productive:
Good ergonomic principles (create a good set-up)
Good Posture: Avoid awkward postures
Get up and move at least every 30-60 minutes with 60 second micro-breaks (set a reminder)
Walk or jog an extra 15 minutes each day
Consider short standing or walking meetings when possible
Adjust standing and seated work as possible
Want to Know More about Telehealth?
Check out this short article, provided by the American Physical Therapy Association, to learn more about telehealth and if it is a good option for you!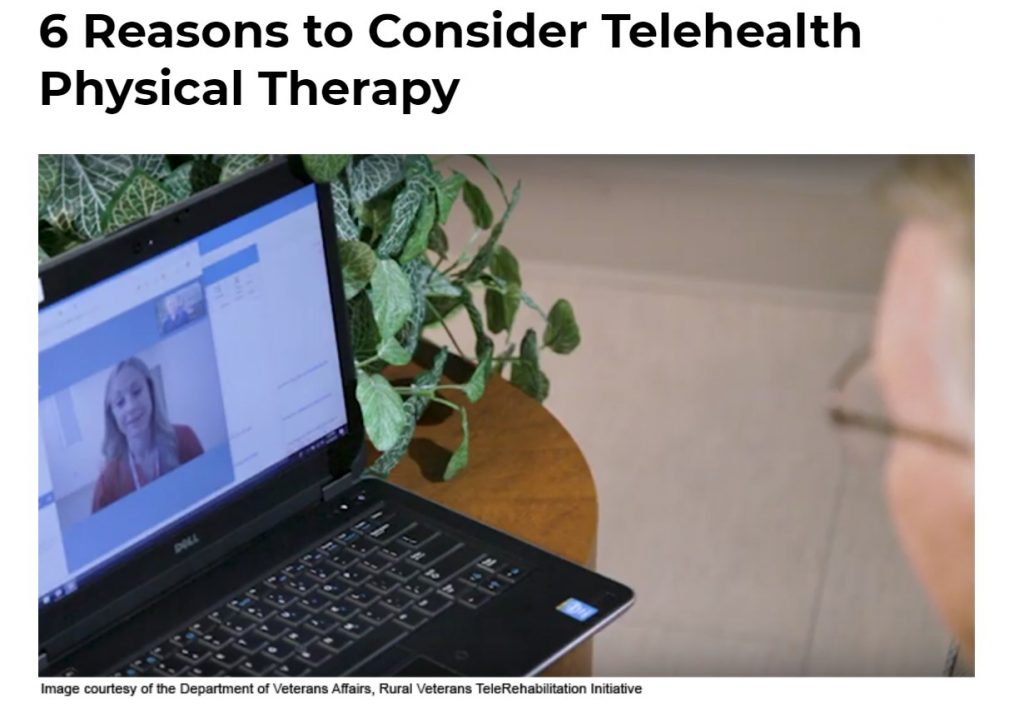 Real People. Real Stories.
"There was a lot of pain & lack of motion with my total shoulder replacement. Therapy started slow to ease me into the movements I needed for full motion. We progressed weekly until the progression was normal & also worked to strengthen the muscles. This has been a very worthwhile step into normal recovery for me. The staff was also a big reason why I returned week after week. Special thanks to Laura for her willingness to push me & still be kind." -Ken M.