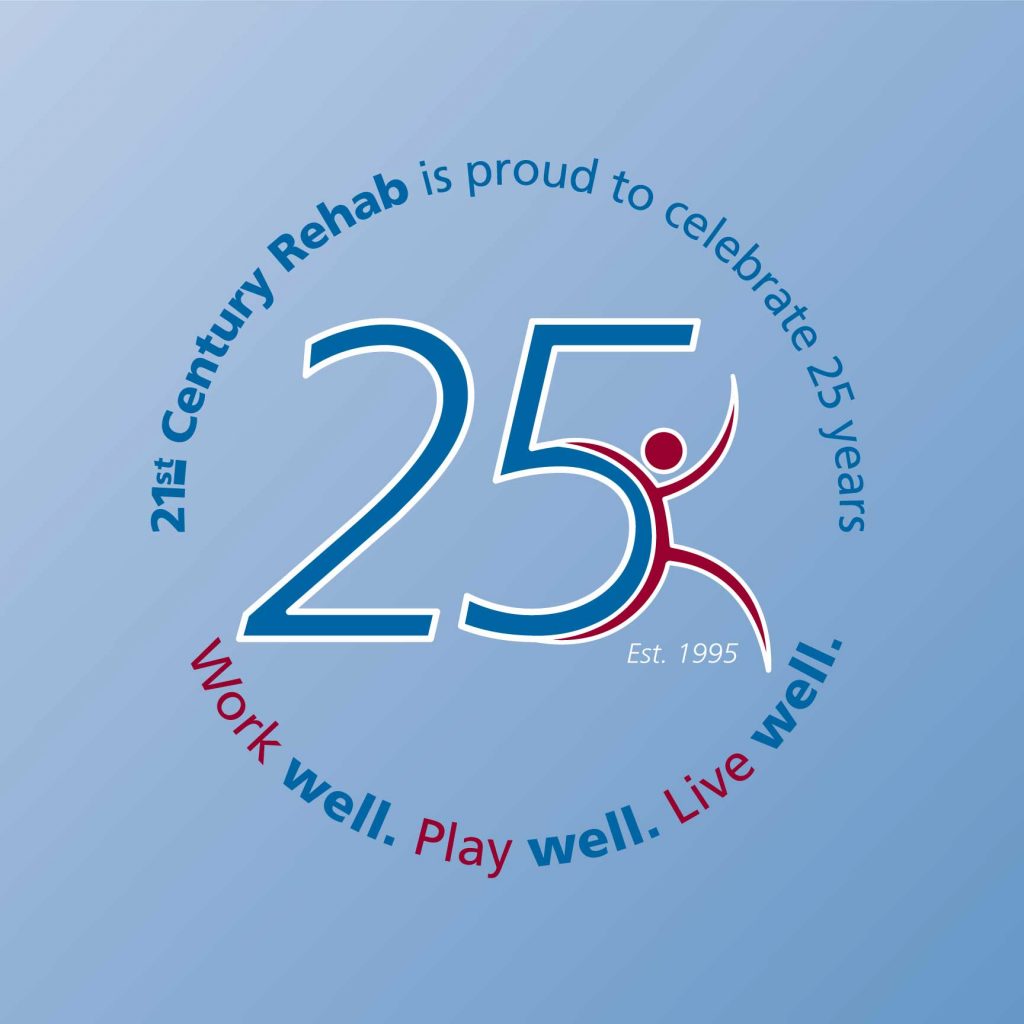 On June 26th, 2020, 21st Century Rehab, PC will be celebrating 25 years of providing therapy services to communities and patients throughout Iowa. 21st Century Rehab, PC has grown from humble beginnings into what is now: a physical therapist-owned company with 13 locations throughout Iowa and over 95 employees. These 13 locations include clinics at 7 critical access hospitals as well as 6 outpatient clinics. This 25th anniversary offers a unique opportunity to look back on the beginnings of 21st Century Rehab, PC.
In 1995, spouses and business partners, Steve and Michelle Cassabaum moved back to Iowa after living in St. Louis. Shortly after, 21st Century Rehab, PC was established when they began contracting their services to Story County Medical Center in Nevada, IA. On June 26th, 1995, CEO and Doctor of Physical Therapy, Steve Cassabaum saw his first patient at 21st Century Rehab, PC. Meanwhile, CFO and COO, Michelle Cassabaum, ran the business office, which today is still located in Nevada, IA.
In the beginning, services provided focused mainly on physical and occupational therapy, including general outpatient orthopedics, post-operative and preventative care, inpatient skilled care, and occasionally TMJ services. Now, 21st Century Rehab offers over 20 services, including Speech Therapy, Lymphedema, Dry Needling, Women's Health, occupational health services, and more. Steve graduated from Washington University in St. Louis and developed a specialty for Temporomandibular Joint Dysfunction treatment. Because of this, it is an area 21st Century Rehab has been able to focus on and grow within the company as well as within the communities they serve, allowing them to become a leader in the treatment and prevention of TMJ disorders and headaches.
21st Century Rehab believes that those who own the company should be directly involved in the primary service it offers, which is why today all partners are Doctors of Physical Therapy who still see patients daily. Along with President and Doctor Steve Cassabaum, there are 3 other partners including Doctor Jason Horras, Doctor Clint Lutterman, and Doctor Matt DeWall.
While 21st Century Rehab hopes to grow in both the locations it serves and services provided, one thing has always remained the same; 21st Century Rehab's focus is to provide Iowa communities with the quality and personalized care they have worked hard to establish. In additional to this focus, 21st Century Rehab is constantly working towards educating patients to seek out physical therapy as the primary treatment for their musculoskeletal conditions/issues. While progress is being made, many people are still unaware of all that rehabilitation and therapy services can offer. Many people are not informed that Iowa is a direct-access State, meaning there is no need for a provider's referral to come see a physical or occupational therapist. In addition, patients always have the option to choose where they wish to go for physical, occupational, or speech therapy.
Work Well, Play Well, Live Well is 21st Century Rehab's motto and effectively communicates the company's primary goal: to provide patients, clients, and businesses with the best resources for achieving their goals and restoring people back to their highest level of function in work, play, and/or their daily lives.